Free VS Pro - Feature Comparison
The free forms are built using many of the same features of Pro.
Below is a list of some of the most notable features.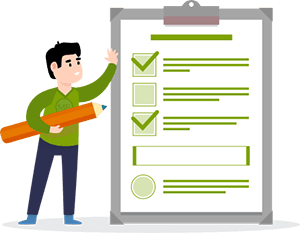 Form Source Code
Forms are provided in a zip file that contains all the needed source code to host a fully functional form. The code includes the HTML form, CSS for styling, JavaScript for validation, and PHP for form processing.
Fully Responsive
The forms are designed using modern HTML and CSS so that the forms are responsive to different device sizes.
HTML and Text Emails
The emails which are generated by the forms are sent in both HTML and Text so they can display the best possible way on any email clients.
Email auto-responder option
You can enable an auto-responder email to be sent to your site visitors after they complete your form.
Form Validation
When your visitors use your forms, the form validation will check that the fields have been completed correctly. The validation is done in real-time by JavaScript in the browser and also checked again on the Server by PHP.
SMTP Email Support
You have the option to use your hosting environment's configured default PHP emailing or specify any SMTP server to send your form emails. SSL/TLS is also supported so that your emails are sent securely.
Own Branding
The free form is branded with a MajesticForm reference, however, the Pro version doesn't have any client-facing branding.
Form Installer
To make your setup as easy as possible, the form package comes with an installer. This is a form where you enter the settings for your form. You are asked to provide information including email address to receive the form submissions, language, email subject line, and reCaptcha settings.
Form Creator Access
With our Form Creator, you can easily create secure, modern, and responsive website forms using a simple drag-and-drop interface.
Spam Prevention Technology
reCaptcha V3, which is an anti-spam security system provided by Google can be used to protect your forms from bad traffic and bots. Just provide your unique reCaptcha keys and the form will automatically integrate with the reCaptcha service. Check out our guide on how to set-up a reCaptcha account.
File Attachment
Support for single or multiple file attachment with form submissions. File attachment configuration allows you to specify which file types are allowed and the maximum file size.
Additional Styles and Themes
The Pro version is available in two main styles and a bundle of color themes. The form creator also includes a theme editor.
Additional Language Support
Both versions support any language, however, the Pro version takes this a step further by showing validation errors in your chosen language. We currently offer 10 languages, and more are coming soon. But even better, you can easily add a language file and define validation messages with the words you want.
Help and Support
We try to offer help to both Free and Pro customers, however, Pro customers come first and will receive the best support possible.
Latest Features First
New features will always be made available to the Pro version first. Some of the new features may be made available in the Free version at a later stage.
Need more information?
If there's a feature you don't understand or something which you think is missing, then please contact us for more details.